FC 24: Triple Threat players revealed
2023-11-16 02:13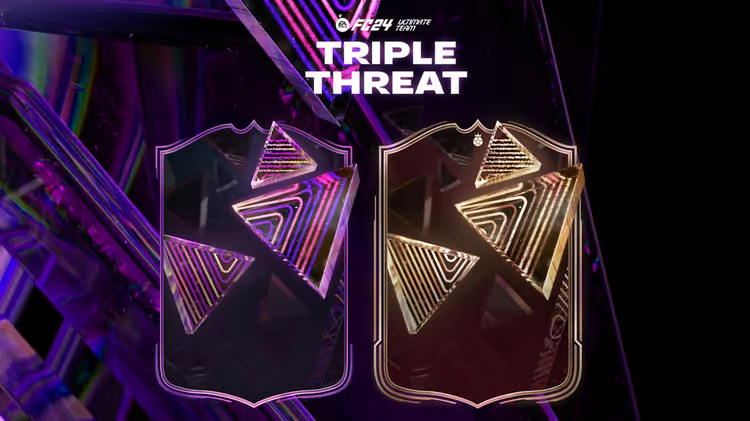 The EA FC 24 "Triple Threat" promotion is currently running. Here is an overview of the event, including start date and participating players.

On November 10th, the EA FC 24 Centurion promotion ends. However, a new promotion for Football Ultimate Team is about to begin.

The development team teased EA FC 24 Triple Threat earlier this week on November 6th, and now it's officially live.

Let's take a look at what we know so far about EA FC 24 Triple Threat.


Triple Threat "When does it start?"
The EA FC 24 Triple Threat promotion in Football Ultimate Team starts on November 10th at 6pm Beijing time. This was confirmed by the EA Sports FC team.
Which players have been leaked or confirmed?
As of November 15th, the following players are confirmed to participate in the EA FC 24 Triple Threat promotion:
James Maddison
Jack Grealish
Ashleigh Neville
Sakina Karchoui
Maxence Caqueret
Leanne Kiernan
Athenea del Castillo
Presnel Kimpembe
Ledley King
Thiago
Dani Carvajal
Alex Greenwood
Yaya Toure
David Ginola
Joe Cole
Fernando Morientes
Dirk Kuyt
Fran Kirby
Conor Gallagher
Sidney Govou
Mario Hermoso
Diego Forlan
Leicy Santos
Many of these players were first reported to be participating in the promotion thanks to the famous FUT leaker @FutSherriff.
Some of the players participating in Triple Threat are current male and female soccer players. However, retired players will also be added. This promotion follows a very special theme, with three of his players from major clubs - men's, women's and Icon - having won and will receive the award in the future.
We can expect more leaks to surface as the promotion approaches. This will be updated as the triple threat event progresses.



FuriousRZ: Really good customer service and the best fifa coin website ever really recommend it.

The customer has bought:

FC 24 Coins

2023/11/21




Miksa:10/10 customer service, would recommend M8X to everyone!

The customer has bought:

FC 24 Coins

202

3

/

11/21




GTV: They have very fast service, very safe, and very cheap! It's the best site for buying FC 24 coins safely. I will use that to increase my team.

The customer has bought:

FC 24 Coins

202

3

/

11/21




Newton: Very fast completion and easy to order! Prices are cheaper compared to other websites and lots of discounts are available to make it even cheaper.

The customer has bought:

FC 24 Coins

202

3

/

11/21




Mihai: I sold coins on this site and everything went well before. So I took more time to buy new coins this time and the staff always responded so fast.

The customer has bought:

FC 24 Coins

202

3

/

11/22




Got my FC 24 coins in the first time! The only thing I say is it that takes 10 minutes to get them, really fast!

The customer has bought:

FC 24 Coins

202

3

/

11/22




Shaun: Really good customer service and they are very understanding of whatever your situation is, highly recommended!

The customer has bought:

Diablo 4 Gold/Items

202

3

/

11/22




Shaun: Fast, safe, and just very good, so I will probably buy again sometime.

The customer has bought:

Diablo 4 Gold/Items

202

3

/

11/22




Phoenix: I've bought gold from here three times. They are always efficient and fast. They are also very reliable. At first, I was a bit scared but I realized that they were very safe.

The customer has bought:

Diablo 4 Gold/Items

202

3

/

11/23




Barnes: Fast delivery the workers on the chats are great at communicating and solving problems, and also have reasonably priced gold and items for Diablo would definitely buy from here again.

The customer has bought:

Diablo 4 Gold/Items

202

3

/

11/23




Steve: Very trustworthy platform, customer support is very understanding of whatever your situation is. I 100% recommend this game site!

The customer has bought:

Diablo 4 Gold/Items

202

3

/

11/23




Alex: Excellent service provided and kept me up to date on my order status. So I was very satisfied with M8X.COM and will be using it again.

The customer has bought:

Diablo 4 Gold/Items

202

3

/

11/23